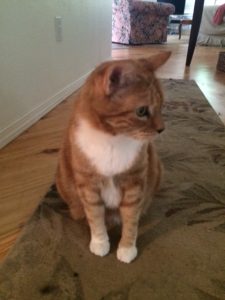 Who is Mrs. Richards?
I am married, have two grown children (my daughter is working toward an RN license, and my son is a computer programmer).  About 13 years ago, I moved to the Rogue Valley  and continue to marvel at all how fortunate we are to live in such remarkable natural beauty!  Have you ever hiked up Roxy Ann Peak, or floated down the Rogue (wear your life jacket and take a river guide), or watched the rainbows hover over the Table Rocks?  Stunning.  By the way, as you enjoy the out of doors, start noting where the moon and sun are located.  More about this in an upcoming project.  🙂
I currently keep very occupied with three cats, 140 plus students, and lots of yard work; and we have a new puppy.  (Anyone out there who has ever done this, knows how much fun we're having!)
Some of my hobbies: knitting, gardening, hiking, baking, and photographing my cats!
Will my my science class can be challenging?  Well, I feel it is not only my job to teach the standards, but to encourage students to stay current with recent science discoveries.  I expect a student to be able to do math, read, write, and participate in class discussion.
Finally, I invite your comments and questions to the Blog.  Look for calendar posts about long term projects and student work samples!
Finally, Finally ("Hey Mr. Jackson, can I say that?") Please take a look at the Public Service section.  I recently visited a local pet food/supply store and really had a heart-break-open moment when I saw so many little creatures needing homes.  Please consider adopting a pet, if you can.
Thank you and have an awesome year!
ALR
updated 08/28/18