09/11  Working on Scientific Method concepts in class.  Experiment:  Coin Toss.  All work will be in class this week.  Also, bellringer, one section of it per day, done and discussed in first 10 mins. of class.  These cover important topics of the week.  Great for kids to look over and review.
Still grading.  Will update Synergy by Wednesday afternoon!
Due:  May 8, Cell Project
March 15 Pendulum Lab due 40 points; in class working on Phet Simulations Pendulum Lab due March 16
Oct. 29/30/31 Eclipses Venn Diagram (this due 11/03) 10 points.  Re-read article in Sc J. page 29.  Project time in class Th & Fri.  (Remember this is due Nov. 14!)
10/17  Moon Phases Project due Nov. 14.
Late Moon Formation Theory Paragraphs are due now!!!
Science Journals due Monday 10/23
10/12  We've begun studying the moon, its possible origins, and then the geometry of its orbit and the changing lunar phases.  Projects are due Nov. 7.  Instructions were sent home with kiddos on Tuesday.  I will post them here later today.  The will be time in class for work on this, but some time will be needed at home as well.  Gather evidence!
10/02 Students read portions of a NASA article, and shared with larger group (Jigsaw); notes in graphic organizer
Learning Target:  Students will refine knowledge of layers of the sun & features of the sun
Part I test tomorrow:  Students will be asked to draw and label layers and features of the sun.  Notes will not be allowed for this portion of the test.   The second part of the test looks at information about sunspots.
On Wednesday, we will catch up and prep for part II of the test (notes can be used last 5 minutes of test) – multiple choice about layers/features of the sun, and general comparisons of planets – students should review bellringers and notes! And review links from project!
09/27  sorted information about layers of the sun and their functions/recorded in a graphic organizer (students should study for test – pg 13 in Science Journals.  Read whole class and sang NASA Sun Song!  So much fun!
Test on Sun layers and features next Tuesday.  Students should be studying journal.  Can use last five minutes of test!
09/26  Watched film and took notes, "Secrets of the Sun" focused on nuclear fusion and solar flares.  Students recorded 8 facts, and combined with info from yesterday, to write a reflection in journal on page 15.  Students will be graded when journals are collected, but encouraged to finish paragraphs this week.
09/25  Notes on sun and layer diagram in Science Journal pages 17 & 18.  (We will go back to fill in pages!)
Homework:  Solar Vocabulary crossword puzzle due Wedensday!
Ask your student which layer sends out solar flares!
http://solarscience.msfc.nasa.gov/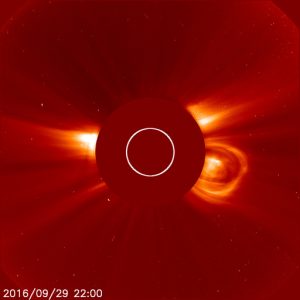 09/13 Writing sample and quiz in class on Mon. & Tues.  Wednesday, Intro to Space. Students are viewing pictures from NASA images, and text book to preview and create an intro page in Science Journals.  (They seem to like to draw Saturn!) Pre-test on Friday for starting data point.  (This test will not affect grades.)
09/08 Experiment Today.  Please don't miss class if you can help it.  The results might be interesting and I anticipate a rousing class discussion.
09/07
We organized Science Journals today, numbered pages, and so on.  Discussed "Scientific Method".  I put this in quotes, because there isn't just one method!  (Kids can tell you about this!  Ask them!)
09/06 Bellringer due
09/06 Will introduce the Bellringer.  We do these daily, and I collect them on Fridays.  We didn't have time the last two days (lots of rules, etc. first week). Kids get these today.  They are done in class on the day listed.
Introductory Letter (apple on book logo) sent home today.  This includes my syllabus/outline and a general description about my instructional style/methods.   Please read it over.  sign back page and return.  If you have any questions, a quick e-mail might be the easiest way to get that answer.  (ALR)
09/09/2015  Well, I'm finding it a bit tough to put this in during class.  But, here goes now (it's 3:09 p)
We discussed procedures and did a "meet new people" activity.
09/08/2015  Please sign the Green Team Classroom Procedures and ask your student to give to their Academic Lab teacher (due ASAP).
Also, kids are encouraged to bring a water  bottle to class as it is getting pretty warm for the next few days.  (Drinking fountains are available between passing periods.)
Kids remember to bring a reading book for Academic Lab.  Library is open in the morning if you need to check one out!
09/03 Field Trip to Mars. Out of the office until September 5th! See you then!
Posting calendar information here, beginning today! 09/15 (update 09/06/17)